Earn rewards
Redeem points for cash savings
Ways to
earn points
join saturday
squad rewards
200 Points
write a
product review
100 Points
celebrate
your birthday
100 Points
shop your
Saturday Skin
1pt = $1 spend
How it works
Earn points for every $ spent on your favorite Saturday Skin product(s). Redeem your points for cash coupons towards your next purchase.
As you reach new levels, you'll earn points faster towards your cash rewards.
CUSTOMER TIER
Friday
Saturday
Weekender
SPEND PER YEAR
$0–$199
$200–$399
$400+
POINTS PER $
1x
1.5x
2x
CUSTOMER TIER
SPEND
PER YEAR
POINTS
PER $
Friday
$0–$199
1x
Saturday
$200–$399
1.5x
Weekender
$400+
2x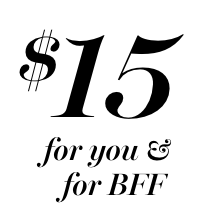 WE'VE GOT YOU & YOUR BFF COVERED!
Log into your account, copy your personalized URL link and share the love with all your friends!

Both you and your BFF will receive a $15 off coupon code for your purchase of $50+, once they complete their purchase.
Got questions?
It's our free loyalty program that gives you the opportunity to earn points on all product purchases, reviews, social media, your birthday and more! You can then redeem these points for discount vouchers. Join Saturday Squad Rewards now to get started!
Our program is open to all customers who create an account HERE. Anyone with an account prior to the launch of our loyalty program is automatically enrolled.
You'll earn 200 just by joining Saturday Squad Rewards. From there, earn more points by purchasing Saturday Skin products, following us on social, referring a friend, leaving product reviews on our site and more. You'll also get points on your birthday!
You cannot retroactively earn points on purchases made before joining the Rewards program or before the program's official launch date on May 15, 2021.
Points are valid for 12 months from the date they are originally earned. If the account does not have any qualifying purchase activity within a 12-month period, all points in the account will expire.
Saturday Squad rewards balance can be affected, if you or one of your referrals recently canceled a purchase or made a return. It is also possible that some of your points expired and were deducted from your account.
To view your current points, you can log into your account HERE or click "Saturday Squad Rewards" link at the top of the page while logged in. You may also check you point balance by clicking on the "Saturday Rewards" icon in the bottom of the page.
All points earned from the purchase will be deducted from your account.
Sign in to your account and Select *Redeem*. Here you'll see all the rewards we offer. If you have enough points, you can redeem them for a reward.
Try resetting your password by clicking "forgot password" link on the Saturday Squad Rewards sign-in page. We'll send an email to the address on file prompting you to reset your password. If you still can't get in, you can contact us at customerservice@saturdayskin.com.
Note that it may take up to 72 hours for points to appear in your account. Also note that in order for points to automatically be credited to your account, you must like + follow us by clicking through the Saturday Rewards page.  Balance still incorrect? Please contact us at customerservice@saturdayskin.com and we'll take care of it!
We are sad to see you go. However, if you still would like to opt out from Saturday Squad Rewards, please email us at customerservice@saturdayskin.com and we will deactivate your account. By deactivating your account, any accrued points will be deleted permanently. However, you may re-enroll in our rewards program at any time.
(1)This offer may not be combined with any other coupons, discounts, offers, or promotions. The purchase amount discounted using gift cards, credit codes or discount codes are not eligible to earn points. Taxes and shipping charges are also excluded towards earning points. Bonus sign-up points are awarded once in the lifetime of its account. (2) The $ amount discounted using gift cards, credit codes or discount codes are not eligible to earn points. Also, taxes and shipping charges are not eligible toward earning points. (3) $15 off coupon eligible toward minimum purchase of $50. (4) Customers must enter date of birth at least one (1) month prior to the first day of birth month to be rewarded. (5) Reward applies to five (5) reviews per customer. Reviews are only eligible if accessed via the Saturday Squad Rewards account. (6) Please note that points are only earned for the first follow or like. To have follow or like applied to your account, please go to the Saturday Squad Rewards account and access your social accounts through the Earn Points tab. Social, follows, or likes do not apply if completed directly through your social media account. (7) Coupon code values limited to defined denominations. Limit of one coupon code redemption per purchase. A $15 coupon can only be used with a minimum purchase of $50. Saturday Rewards Points are non-transferable, have no cash value (unless required by law) and cannot be exchanged, sold or returned. Saturday skin is not responsible for lost or stolen Points. Saturday skin is not responsible for any taxes incurred by customers. Terms and conditions are subject to change, alteration, substitution, or termination by Saturday skin in its sole discretion at any time.
Choosing a selection results in a full page refresh.
Press the space key then arrow keys to make a selection.